Costco is known for offering products at lower prices than many other retailers, and cheese is one of the products that are majorly discounted at Costco. Costco's Kirkland brand cheese is cheaper than any comparable brand-name cheese at your supermarket.
Not only this, but cheeses from different brands, such as Kraft Philadelphia, are more affordable at Costco than your other options. So it doesn't surprise that Costco's cheese appears on every MUST-buy-at-Costco list.
But you probably already know this–which is why you landed on this article–so let's cut straight to the point without further ado.
Here's each type reviewed.
Best Costco Cream Cheese in the USA
Costco's cream cheese offerings in the USA include Kraft Philadelphia Cream Cheese and Raskas Cream Cheese Bars. Both are valuable, but which one you should pick depends on your preference: one is tastier, and the other is growth hormones free. Here is the complete review.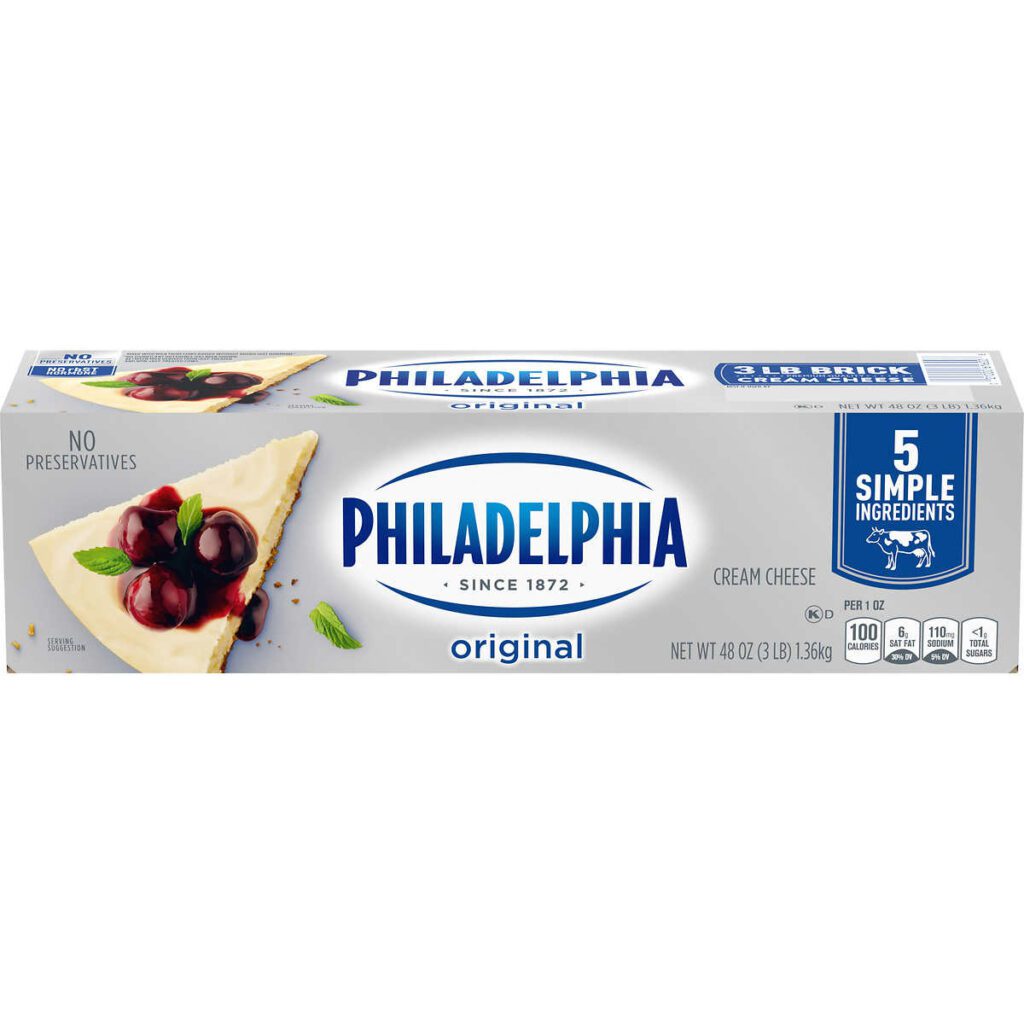 At Costco, Kraft Philadelphia or Philly Cream Cheese is available in 50 one-ounce single-serving foil pouches. Each pouch costs you 33 cents, totaling $16.49 for the bundle. It's also available in mega-bricks and bars.
Philly is my favorite because it has a perfect taste and only has five simple (and natural) ingredients. It only has pasteurized milk, cream, cheese culture, salt, and carob bean gum…No artificial preservatives, stabilizers, dyes, or flavors. This lack of added ingredients contributes to the fact that Philly contains more cream or fat compared to other store brands.
The Philadelphia Cream Cheese spread has a smooth and creamy texture, perfect for spreading on bagels or crackers or as an ingredient in various recipes. It's also spreadable straight out of the refrigerator–there are no lumps and clumps.
It has a rich, tangy flavor, almost to the point of bitterness. The lack of sweetness allows it to be used in savory dishes, which, in turn, sets it apart from other plain cream cheeses.
Overall, it's excellent value for money when bought from Costco, where it's majorly discounted.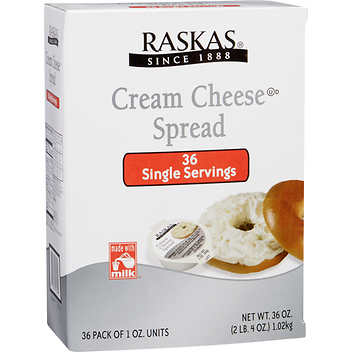 Raskas Cream Cheese is comparable to Philly as it has minimum, all-natural ingredients. It's superior to Philly as it's derived from cows not treated with RBST. So, the daily use of this cheese won't affect your immune system–what a blessing in the modern world!
It is known for its rich and creamy texture and versatility in cooking and baking. You can use it for spreads, dips, sauces, and as a topping for bagels. It's also great if you use it in your recipe that needs cooking–it has a thicker consistency and sweeter flavor rather than tangy.
You'll enjoy Raska's cream cheese's taste and smooth texture and consider it a high-quality product.
It's also cheaper than its competitor. Overall, it's a great product. I can't recommend it enough.
YET
You might not like it if you want cream cheese that should taste exactly like Philly.
Costco Brand Cream Cheese (available in Canada, but not in the USA)
Costco also sells Kirkland Signature (Costco's in-house brand) cream cheese flavors. Sadly Kirkalnd cream cheese isn't available at Costco, but if you get it somehow, it'll win your heart.
Kirkland Signature Strawberry Cream Cheese
It's the most popular Costco cream cheese flavor, as it goes well with many of Costco's home-brand Kirkland products, such as bagels.
It's not overly sweet, unlike I had expected. The strawberry flavor is subtle and not extravagant at all. Also, there's no trace of artificial flavor notes–the cheese smells and tastes all natural with a slight tartness of real strawberries.
Since it's less sweet and tangier, it's a perfect pairing to freshly cut fruit, such as pineapples and mangoes.
The Kirkland Strawberry Cream Cheese is light and fluffy. It's whipped and not heavy at all.
It comes in a one-pound resealable plastic tub. Overall, it's excellent packaging, and I think the cheese can survive at least three weeks before developing mold and going rancid. Needless to say, you should store it in a refrigerator to maintain its freshness. When fresh, the cheese color is a decent, unmistakable light pink hue.
You can use it as a spread for bagels, crackers, and sandwiches and as an ingredient in dips, spreads, and various baked goods.
The Strawberry Cream Cheese is an excellent option for those who enjoy the taste of strawberries and want to add a little sweetness to their breakfast or snacks. It's also suitable for baking, adding a unique flavor to cakes, pastries, and other desserts.
Kirkland Signature Roasted Garlic & Herb Cream Cheese
It's an excellent-quality cream cheese with a rich garlic taste. Costco has given a savory and flavorful twist to the classic cream cheese–a robust one–so much so that there are small, visible chunks of roasted garlic and herbs throughout the cheese.
It has a mix of a sweet, nutty flavor due to garlic and a fresh, fragrant taste due to herbs. The color of the cheese is beige with a light yellow hue.
It comes in the same one-pound, resealable plastic container as the other flavors.
If you like savory flavors, you can use this cream cheese as an ingredient in recipes or add a little extra taste to your breakfast or snacks.
The Kirkland Roasted Garlic & Herb Cream Cheese is excellent value for money.
I can't recommend it enough.
I wish you good luck finding it in the USA!